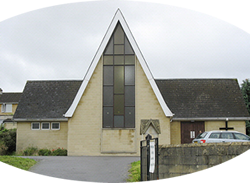 At Bathampton Methodist Church we seek to place the love of God, the teaching of Jesus, and the guidance of the Holy Spirit at the centre of our lives and our worship.
The Church is situated in the centre of the village of Bathampton to the east of Bath and is part of the North East Somerset and Bath Methodist Circuit and the Bristol Methodist District.
Our Sunday morning services are led by our minister Rev Dr Simon Topping and other ministers and local preachers from the circuit.
Morning Worship begins at 11.00am every Sunday, except for the 4th Sunday each month, when there is a Family Brunch service which begins at 10.00.
These are designed specifically with children and parents in mind, but they are also enjoyed by the older members of the congregation – starting with a Brunch (usually pancakes with various toppings), a Bible story, songs and activities.
Visitors are welcome at all of the services.