Our premises are available for hire from £25.00 a session: morning, afternoon, or evening.
Are you a Christian group looking for a place to worship? Could we be the answer? We have shared our building and welcomed other Christian groups in the past. Do contact us if you would like to find out more.
The Church seats up to 80 (conference style).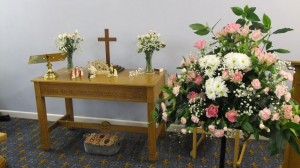 A screen can be drawn across the worship area to provide a flexible space with movable chairs.
There is a kitchen with cooker, microwave, kettles, sink adjoining the hall and a small vestry on the other side of the hall.
There are toilet facilities (male and female/disabled).
The building is on one level and a ramp can be fitted for wheel chair access over the small step at the front door.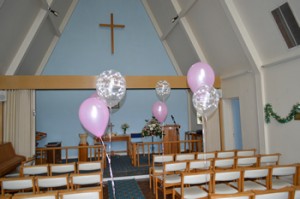 The car park provides parking for about 10 vehicles and there is additional on-street parking near the chapel.
For groups hiring the hall the car park is included in the cost, but the car park can also be hired separately for other functions in the village – rates agreed on an individual basis.
The chapel facilities lend themselves to a variety of activities. Groups who have used the chapel facilities in the past include:
A Romanian Church for worship
The Pilgrims of St Francis for retreat weekends
International Soroptomists, Bath for evening meetings
Other groups for discussion / study /conference / meetings
Choirs/ensembles for rehearsal
McMillan groups for Coffee Mornings
Local groups for table top sales
Clinics
B.A.N.E.S. for elections
Toddler Groups
Youth Groups
Children's Parties
For enquiries and further information, contact via the Contacts Page
All bookings are arranged at the discretion of the trustees of Bathampton Methodist Church.