In a book telling the Story of Methodism in Bath over 250 years, Bruce Croft, the co-author and editor, includes this 'very personal account' of the memories of Kelvin Thomas, a founder member of the Chapel, as he recalls the family moving from Wales to Bathampton and the early days of the Chapel at Bathampton: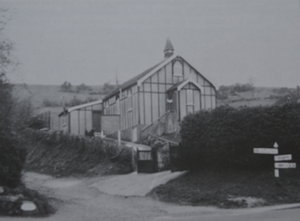 Old Bathampton Chapel "It was in the year 1926 that the family left South Wales, not by choice but due to the General Strike which forced so many to seek employment in other parts of the country. My mother's parents lived in the hamlet of Bathford and provided a home for us in this distressing time. Our family consisted of four children, two boys and two girls. (My younger sister Hilary was to be born in Bathampton some three years later.) The Calvinist Church of Wales, Grangetown, Cardiff was our spiritual home where we were to be found every Sunday morning. Boots polished on Saturday night of course, together with our weekly dose of syrup of figs or senna pods. Sunday School was at 3pm. In the morning we sat with our parents on very hard wooden benches, form-like, with one long rail on which to rest our back and plenty of room for our father to give us a poke should we make a noise. We enjoyed going to chapel. There was singing and giggling and, for the one who was the youngest, that time when, just before the sermon, mother would take us on her lap and we would have the enormous pleasure of caressing her fox fur and we believed the little head of the fox enjoyed it too. The Old Ford Tourer which brought us to Bathford, with side screens made of Perspex material, wended its way through the Forest of Dean and Gloucestershire (no Severn Bridge of course) and took a full day to accomplish the journey. Bathampton was soon visited and we as children were allowed to accompany our parents to see the new house which was only partially built, no. 6 Down Lane. I can hear now the echoing footsteps as we climbed the stairs and remember the view from every window, seeing fields tall with mowing grass and quiet noises of men mixing mortar and a pick-axe gently thudding on a virgin soil. Bathampton boasted a Parish Church but no Chapel and we were Chapel people. One would have thought that my father and mother had enough to concern them, what with work to find and four children to feed and clothe and that little time and energy would be left to explore means and ways of establishing a chapel at Bathampton.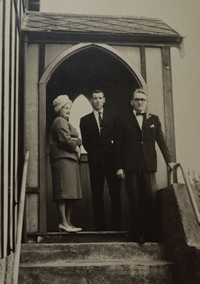 Kelvin Thomas and Friends No way could be found to interest the Wesleyan Methodist Church in building a chapel in the village and there it may have rested had it not been for a group of people: Mr Wilfred Padfield, Canal Farm, Bathampton; Mr Pickett, Down Lane; and my father and mother, Charles and Lena Thomas, "Penhevad", 6, Down Lane, Bathampton. "Penhevad" is the name of a little piece of Wales they brought with them, for our previous home was at 6, Penhevad Street, Grangetown, Cardiff. This name wa painted in gold letters on a Welsh black gate to remind us of our origin. Mr and Mrs Padfield had two girls and one boy. They too had originated from this part of the country, but their roots were in the Wesleyan Methodist Church and they also felt a need for a Chapel in Bathampton. For my father money was at a premium, for he had started a Coal Business from scratch with an old "T" Ford with pneumatic tyres on the front axle and hard rubber tyres at the rear. The lamps were oil lit, the windscreen wipers were manually operated and the cab very draughty, as I was later to find out. As I recall it was in 1930 or thereabout that Mr Padfield, my father and I walked around the parcel of land under the lea of Hampton Downs which Mr Padfield was going to give to the new church. The ground would be prepared and levelled to take a fabricated building, lined with timber. The building duly arrived and was erected. My father and Mr Padfield stood surety for the bank loan which was to take some twenty years to repay. No affiliation with the Wesleyan Church was made; this was to come later. Contact with lay preachers, who would give us their time and services, was made and worship commenced. The first officers were: Sunday School teacher, Mr Padfield; organist, Mrs Lena Thomas; Steward, Mr Charles Thomas. We knew we would have a small congregation, Mr Padfield's family of five, our own family of six and Mr Pickett. It should be mentioned here that prior to the chapel on the hill we worshipped around the Billiard Table in the Old Barn in the village, opposite the Post Office and store, by courtesy of Harbutt's Plasticine, the owners. Earlier still (not in my time, however) a group of Christians met behind Chapel Row, just off the High Street in one of the cottages. The Wesleyan Methodist Church, Bath Circuit, was impressed by the fortitude and singleness of purpose shown by the small church, so much so that, some five years after its formation, they declared their willingness to support the young society. Bathampton was included on the Plan and enjoyed the occasional visit by an ordained minister.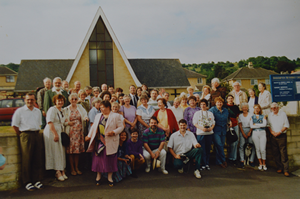 Group Outside Chapel I remember with pride the wonderful Harvest Festival teas, the beautiful decoration of the overhead beams which lent themselves so adequately to "Old Man's Beard". I remember how hot the chapel was during the height of Summer, how cold in the Winter with only six water-filled, gas-ignition, cast-iron radiators – frost on the inside of the windows, a common sight. A small harmonium demanded from the organist physical strength to supply sufficient air by constant movement of the foot pedals, whilst employing the knees to side swells, added to which a row of stops had to be manipulated along the length of the keyboard; the instrument was now ready to be played! I remember wonderful Sunday School treats, as they were called; a special pleasure was given to the children: the privilege of riding Mr Padfield's horse. This animal was a real friend of the family and had never experienced the use of a whip. It was a common sight to see Mr Padfield riding in his trap, the reins loosely held in his hands, with an occasional word to his four-legged friend which can only be described as conversation. The Sunday School grew; new families came to the village and each played a part in carrying on the Christian fellowship, to name but a few, Mr Ernest Tovey, Mr William Welch, Mr and Mrs Marcel Northway and all branches of the Thomas family." (Kelvin Thomas MBE) Bruce Crofts, referred to above, who was for many years a local preacher in the Bath circuit, adds his own personal memory in his book: Unchanged: "The Editor of this book preached his very first sermon in the old Bathampton Chapel on 6th October, 1940."
He goes on to record that:
"By the 1960s that chapel was not big enough to cope with the various needs of the different groups attached to the church. In 1972 the new chapel was erected. "